Trump International Hotel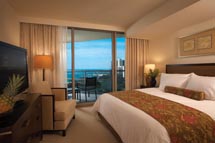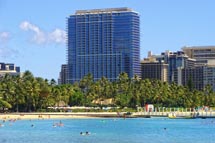 Trump International Hotel Waikiki Beach Walk
This ultra-luxury property is located just steps away from Waikiki's white sand beaches and is directly across the street from Fort De Russy Beach Park. The 38 story 462 room high rise features residential-like guestrooms and suites boasting breathtaking views, floor to ceiling windows and luxurious marble baths.
Guests will be drawn into timeless elegance with all the exceptional amenities of the Trump Hotel Collection, world class dining, lobby bar, library,exquisite spa and state of the art fitness center. The Infinity pool is located on the 6th floor along with a waterfall that cascades down to a pedestrian walk.
The new Waikiki Beach Walk promenade will offer an array of enticing shops, boutiques and restaurants. Impressive Kalakaua Avenue, Waikiki's fashion mile of luxury brands — Burberry, Tiffany & Co., Yves St. Laurent, Gucci, Prada, and Louis Vuitton is in your immediate surroundings.   Valet parking is $28 per day for the Trump International.
Amenities
 

| | |
| --- | --- |
| Air Conditioner YES | Daily Maid Service YES |
| Alarm Clock/Radio YES | Electronic Door Lock YES |
| Balcony/Lanai YES | Hair Dryer YES |
| Bath Tub/Shower YES | Iron/Ironing Board YES |
| Blackout Drapes YES | Kitchen/ette YES |
| Cable or Pay TV YES | Mini/Refrigerator YES |
| Ceiling Fan No | Rollaway No |
| Coffee No | Safe (in room) YES |
| Coffeemaker YES | Smoke Detector YES |
| Color TV YES | Telephone YES |
| Connecting Rooms No | Washer/Dryer (in room) No |
| Crib FREE | |
Hotel Services
 

| | |
| --- | --- |
| Activities Desk YES | Internet Access YES |
| ADA Rooms YES | Laundry Facilities No |
| Baby Sitter No | Non-Smoking Rooms YES |
| Beauty/Barber Salon No | Parking YES $28 daily, valet only |
| Business Center YES | Photo Mart No |
| Children's Program No | Porterage YES |
| Cocktail Lounge YES | Restaurant YES |
| Concierge YES | Room Service YES |
| Conference Room YES | Security YES |
| Dry Cleaning YES | Showroom No |
| Gift/Apparel Store No | Sundry Store No |
| Guest Services YES | Travel Desk YES |
| Hospitality Room No | |
Recreation
 

| | |
| --- | --- |
| Barbecue Area No | Sauna No |
| Beach No | Shuffleboard No |
| Beach Services No | Snorkeling No |
| Bike Rental No | Swimming Pool YES |
| Exercise Room YES | Tennis Courts No |
| Golf No | Volleyball Court No |
| Putting Green No | Whirlpool Spa No |