Big Island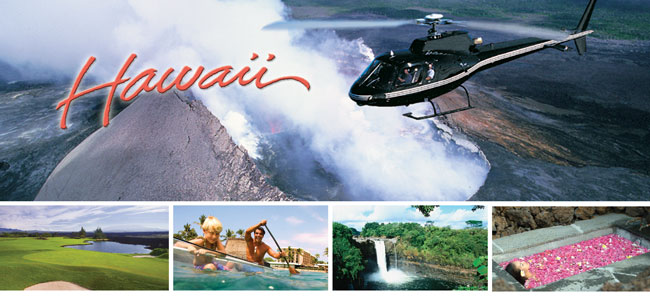 Hawaii
The island of Hawaii is the youngest island in the Hawaiian Island chain and is also by far the largest and still growing! This is the home of the world's most active volcano (Kilauea), the tallest sea mountain in the world at 33,000 feet (Moana Kea), the most massive mountain in the world (Mauna Loa) and the largest park in Hawaii (Volcanoes National Park). Whether you're looking for a romantic getaway or a journey off the beaten path, you'll discover it all on Hawaii's Island of adventure!
Top reasons to visit the Big Island
1. Hawaii Volcanoes National Park. Watch the nighttime lava fireworks from one of the most active volcanoes on earth!
2. Waipio Valley:  Experience a real life secret garden at the remote spot known as Valley of the Kings.
3. Kealakekua Bay: Snorkel in the crystal clear, turquoise waters full of coral and tropical fish, then Kayak past spinner dolphins to the Captain Cook Monument.
4. Mauna Kea: Gaze at the heavens through gigantic telescopes on snow-topped Mauna Kea.
5. Hidden Beaches: Discover some of the islands best beaches along the Kohala Coast.
Please fill out the form below and click send