Molokai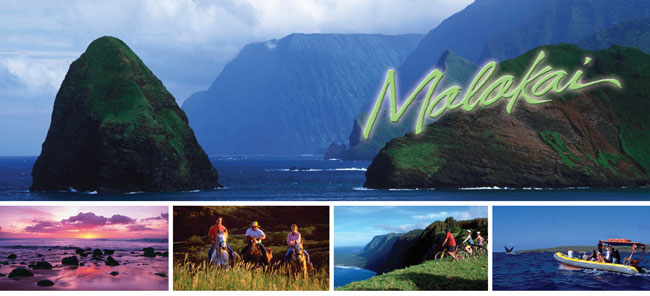 Island of Molokai
Molokai is known as the "Friendly Isle".  Hawaii's fifth largest Island, Molokai is only 38 miles long and 10 miles across at its widest point. Molokai is home to the highest sea cliff in the world along its Northeast Coast. Molokai stays true to its Hawaiian traditions, tucked away from the outside world. No building is taller than a coconut tree and there is no traffic and no traffic lights. Molokai is an island of unspoiled beauty and untouched beaches. Experience Molokai for yourself and you will fall in love with this undiscovered island!
Top reasons to visit Molokai
1. Kalaupapa Peninsula: Hike or take a mule ride to visit this National Historic Park Father Damien made famous.
2. Kaunakakai: Molokai's main town, features historic landmarks and the state's longest pier. Visit Kanemitsus famous bakery and order your favorite treats.
3. Haleiwa valley. Take a guided hike into this historic Hawaiian Valley with towering waterfalls.
4. Papohaku Beach: Over 3 miles long it's one of Hawaii's largest white sand beaches.
5. Deep Sea Fishing: Sport fishing is one of Molokai's great adventures. Gorgeous views of several islands while fishing is a bonus.
Please fill out the form below