Kauai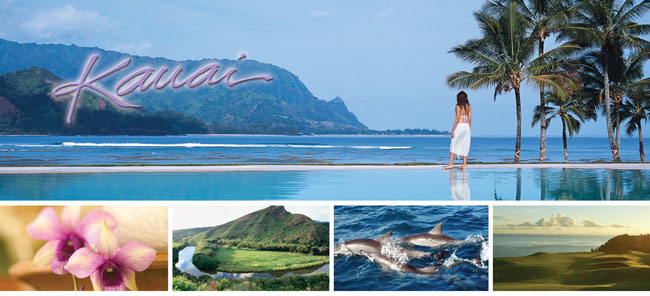 Island of Kauai
Majestic mountains, emerald valleys, breath taking waterfalls and tropical rainforests it's know wonder why Kauai is called "The Garden Isle". Explore the island via land, sea, or air to experience settings you have only dreamed about. Discover 50 miles of heavenly beaches from Poipu Beach to Hanalei. The island of Kauai is simply intoxicating. But it's the islands laid back atmosphere and rich culture found in its small towns and along its one lane bridges that make it truly timeless.
Top reasons to visit Kauai
1. Napali Coast: Hike, boat or helicopter in to experience one of Hawaii's most beautiful stretches of coastline.
2. Waimea Canyon: Visit the "Grand Canyon of the Pacific" to see spectacular scenery, dramatic,  colorful rock formations and frequent rainbows
3. Get close to Nature: Hiking is a great way to explore the splendor of Kauai first hand, since 90% of the island is inaccessible by road.
4. Kayaking: With four rivers to explore plus spectacular coastlines, Kauai is a mecca for kayakers.
5. Kalalau Trail.  A hike on the Kalalau trail will test your endurance, but you will be rewarded with lush tropical forests, white sand beaches and cascading waterfalls.
Please fill out the form below and click send