Hyatt Regency Waikiki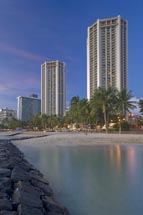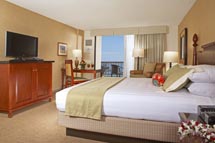 Hyatt Regency Waikiki Beach Resort and Spa
The Hyatt Regency Waikiki Beach and Resort is the perfect setting for a dream vacation in paradise. It is directly located across the street from world famous Waikiki Beach. The Hyatt is considered to be an ocean front resort, since there are no hotels between it and the Pacific Ocean.
There two 40 story towers connected by an open-air atrium which has a two story cascading waterfall surrounded by lush tropical foliage.
The Hyatt has 1229 rooms which have recently been redone in a classic theme of Hawaiian elegance.
There are three levels of shopping with over 60 shops and boutiques. At the center of the open-air atrium is a two story cascading waterfall surrounded by lush tropical plants. There are four restaurants located in the Hyatt Regency. Enjoy the free nightly live entertainment by the pool which overlooks Waikiki Beach.
Beckoning drums signal the opening of our special festivities held every Friday from 4:30 p.m. to 6:00 p.m. near the waterfall in the Great Hall on the first floor. Enjoy a mini Polynesian show, hands-on lei making demonstrations, hula dancing performances, Polynesian art tattooing, and a Samoan Fire knife dancer. Numerous deals are available at the Hyatt Regency such as 3rd and 4th night free specials and free breakfast daily specials. Daily parking is $35.00 plus tax for valet and self parking is $30.00 plus tax. Resort fee is $18.00 daily and will be collected upon check-out.
Hyatt Amenities
Hotel Room
 

| | |
| --- | --- |
| Air Conditioner YES | Daily Maid Service YES |
| Alarm Clock/Radio YES | Electronic Door Lock YES |
| Balcony/Lanai YES | Hair Dryer YES |
| Bath Tub/Shower YES | Iron/Ironing Board YES |
| Blackout Drapes YES | Kitchen/ette No |
| Cable or Pay TV YES | Mini/Refrigerator YES |
| Ceiling Fan No | Rollaway YES ($Fee) |
| Coffee YES | Safe (in room) YES |
| Coffeemaker YES | Smoke Detector YES |
| Color TV YES | Telephone YES |
| Connecting Rooms YES ($Fee) $33.59 | Washer/Dryer (in room) No |
| Crib FREE | |
Hotel Services
 

| | |
| --- | --- |
| Activities Desk YES ($Fee) | Internet Access YES ($Fee) |
| ADA Rooms YES | Laundry Facilities YES Coin Operated |
| Baby Sitter YES ($Fee) | Non-Smoking Rooms YES |
| Beauty/Barber Salon YES | Parking YES $30 daily |
| Business Center YES | Photo Mart No |
| Children's Program YES ($Fee) | Porterage YES |
| Cocktail Lounge YES | Restaurant YES |
| Concierge YES | Room Service YES |
| Conference Room YES | Security YES |
| Dry Cleaning YES ($Fee) | Showroom No |
| Gift/Apparel Store YES | Sundry Store YES |
| Guest Services YES | Travel Desk YES |
| Hospitality Room YES | |
Recreation
 

| | |
| --- | --- |
| Barbecue Area No | Sauna YES |
| Beach YES across the street | Shuffleboard No |
| Beach Services No | Snorkeling No |
| Bike Rental No | Swimming Pool YES |
| Exercise Room YES | Tennis Courts No |
| Golf No | Volleyball Court No |
| Putting Green No | Whirlpool Spa YES |