Aqua Island Colony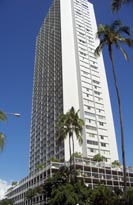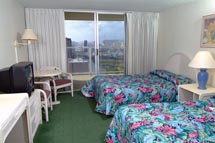 The Aqua Island Colony Hotel
The Aqua Island Colony is actually a hotel and condominium all in one. It's a perfect choice for vacationers and families on a budget. The Island Colony is located across the street from the Ala Wai Canal and the Ala Wai Golf course.  It is only a short walk to Waikiki Beach and the Royal Hawaiian Shopping Center. The International Market Place is also just a short 10 minute walk away.
The Island Colony offers studios and one bedroom apartments.
 The pool and lounge area is located on the sunny side of the building on the 6th floor. You will also find the Jacuzzi and the sauna on the 6th floor.
Coin operated Washers and dryers are available 24 hours a day.
Complimentary amenities include free daily local newspaper delivered to your room, in room safe, coffee maker with free coffee and Wi-Fi in the lobby. The Island Colony a great choice for the families.
 Parking is $25.00 per day.
Hotel Room
 

| | |
| --- | --- |
| Air Conditioner YES | Daily Maid Service YES |
| Alarm Clock/Radio YES | Electronic Door Lock YES |
| Balcony/Lanai YES | Hair Dryer YES |
| Bath Tub/Shower YES | Iron/Ironing Board YES |
| Blackout Drapes YES | Kitchen/ette YES |
| Cable or Pay TV YES | Mini/Refrigerator YES |
| Ceiling Fan No | Rollaway YES ($Fee) |
| Coffee YES | Safe (in room) YES ($Fee) |
| Coffeemaker YES | Smoke Detector YES |
| Color TV YES | Telephone YES |
| Connecting Rooms No | Washer/Dryer (in room) No |
| Crib YES ($Fee) | |
Hotel Services
 

| | |
| --- | --- |
| Activities Desk YES | Internet Access YES |
| ADA Rooms YES | Laundry Facilities YES Coin Op |
| Baby Sitter No | Non-Smoking Rooms YES |
| Beauty/Barber Salon No | Parking YES $25 daily |
| Business Center No | Photo Mart No |
| Children's Program No | Porterage YES ($Fee) |
| Cocktail Lounge No | Restaurant No |
| Concierge YES | Room Service No |
| Conference Room No | Security YES |
| Dry Cleaning YES ($Fee) | Showroom No |
| Gift/Apparel Store YES | Sundry Store YES |
| Guest Services No | Travel Desk YES |
| Hospitality Room No | |
Recreation
 

| | |
| --- | --- |
| Barbecue Area No | Sauna YES |
| Beach YES 3 blocks | Shuffleboard No |
| Beach Services No | Snorkeling No |
| Bike Rental No | Swimming Pool No |
| Exercise Room No | Tennis Courts No |
| Golf No | Volleyball Court No |
| Putting Green No | Whirlpool Spa YES |