O'ahu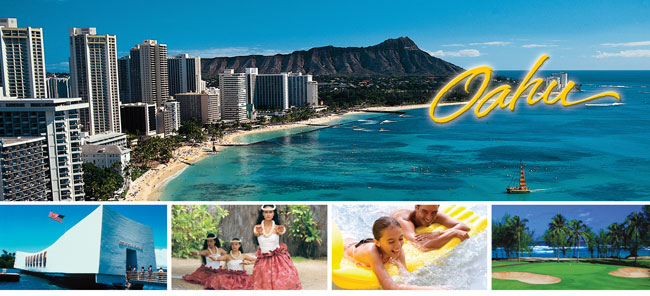 Island of O'ahu
The Island of Oahu is known as the Gathering Place. It is the third largest and second oldest of the Hawaiian Islands. On Oahu you will find the best of both worlds. In Waikiki you will discover vibrant nightlife, world class hotels, shopping and dining and in nearby downtown Honolulu you will find the heart of Hawaii's art and culture scene, with museums, art galleries, electric bars and exotic restaurants. Less than an hour's drive away, the Windward Coast is home to some of America's most beautiful beaches. Continue the drive up to Oahu's North Shore to see world famous surfing beaches such as, the Banzai Pipeline, Waimea Bay and Sunset Beach. With so much to see and do, you are never too far away from what you are looking for on Oahu. Come and visit the Heart of Hawaii and find the island paradise you've been searching for!
Top reasons to visit Oahu
1. Pearl Harbor: Pay your respects at this National Historic Landmark where World War two both began and ended.
2. Hanauma Bay Nature Preserve: Snorkel in the pristine waters of an ancient crater in this tropical fish preserve.
3. Hike Diamond Head: One of Hawaii's most famous landmarks, panoramic views of Waikiki and Honolulu are worth the hike
4. North Shore: Visit the charming surf town of Haleiwa and check out the famous surfing beaches from Sunset to Waimea Bay.
5. Polynesian Cultural Center: Hawaii's most popular attraction. Experience the culture of seven Polynesian Island groups all in one place.
6. Nightlife: Dance the night away! Oahu is the epicenter of Hawaii's nightlife.
Please fill out the form below.